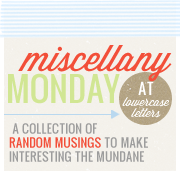 1. Today is Nov. 1st (first off can't believe it's already Nov!) and do you know what that means? It's officially time to break out the Christmas music!! Only 55 more shopping days, and what's more motivating than those magical tunes?
2. My poor sweet Gracen has come down with a case of the sickies. Apparently there's something goin around these parts this Halloween, becuase I know a lot of kids that didn't even go trick-or-treating because they were sick, no fun!
3. Oh my pumpkin spice latte coffee creamer, I don't think I could survive my mornings without you!
Happy Monday!